10Th Class Result 2023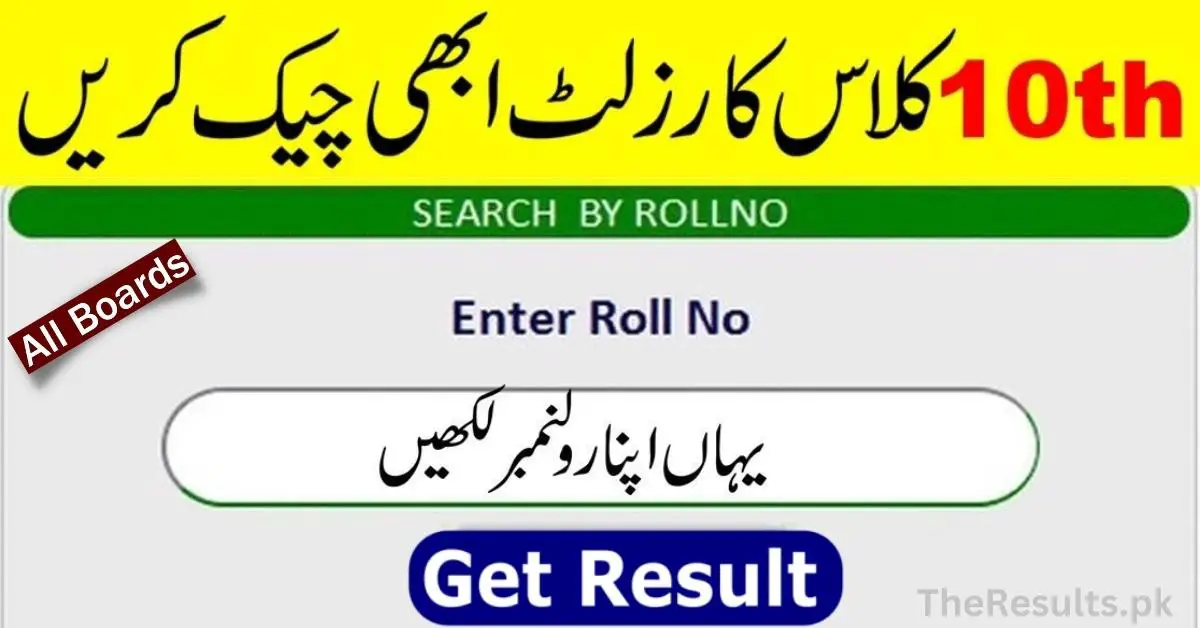 The 10th class results for 2023 will be announced on this page once they are released. Online gazettes are available for 10th-class students across Pakistan. An online mark sheet would be available in an instant with the student's roll number.
Matric supply results will be announced on 09 November 2023. Matriculation results will be issued in July to candidates of the BISE Lahore Board, Gujranwala Board, Multan Board, Faisalabad Board, Sargodha Board, Rawalpindi Board, Bahawalpur Board, Dera Ghazi Khan Board, Sahiwal Board, and Federal Board. Karachi Board, Hyderabad Board, Mirpurkhas Board, and Larkana Board will announce their matriculation results in August.
All Boards 10Th Class Result 2023
Admissions for intermediate classes will begin after the announcement of the 10th class results. Matriculation results are sent to regular and private candidates within a week. You can register any complaint with BISE Boards after the results. Pakistani BISE Boards even offer an online complaint option for rechecking matriculation papers.
A student's matriculation results shape their future. The Ministry of Education Pakistan directs BISE Boards to conduct fair and transparent exams. However, it takes almost two months for the BISE Boards to prepare the results carefully after the matriculation examinations across Pakistan.
A BISE Board's matriculation results are ultimately judged on its performance and improvement in its jurisdiction area, and the results are used to hold it accountable. Therefore, further amendments and changes are implemented to ensure better results next year.
Check All Boards 10Th Class Results
The BISE Boards of Pakistan hold an awarding ceremony every year following the announcement of matriculation results to recognize and reward deserving candidates and position holders. In addition, several scholarships and fee waivers are available to high achievers. 
Boards of intermediate and secondary education were established to ensure the quality of education and scrutinize how students are taught. Every year the education system of Pakistan progresses and improves as these substitute branches of the Ministry of Education Pakistan conduct examinations and results in the prescribed manner. The results of Pakistan's matriculation show how talented and intellectual the youth are. A lot of students across Pakistan achieve high marks in enrollment, which tightens the merit for admission to intermediate classes. Matriculation results are one of the most important aspects of a student's education. BISE Boards will announce the matriculation results 2022 here as soon as they are officially announced.
March was the month of exams for the 10th class. Students studying Science subjects take written exams first, followed by practicals. Almost every board has announced the matric part 1 results in time in the last few years without any delays or server outages. 
Punjab has 9 intermediate and secondary education boards, and other provinces have their boards for 10th-class results. Theinfo. Pk is proud to be part of the result announcement, and we'll upload the 10th result as soon as the board declares it. Students deserve to be rewarded for their hard work during the result time.
The nine exceptional educational boards of Punjab are responsible for conducting exams at various levels for the betterment of youth and the country's progress. Boards in Punjab and other provinces are responsible for affiliating schools and colleges, managing exams, registering candidates, issuing roll number slips, managing examination halls to conduct exams, and releasing results. 
Results preparation began as soon as the exam process ended. After three months of exams, the result is usually announced. Exams are conducted, and results are announced simultaneously by all Punjab boards. Literacy rates are improving in all four provinces. Students also have access to good sources for fulfilling their dreams through boards.
All education boards simultaneously conduct tenth-class exams in Punjab, Sindh, Khyber Pakhtunkhwa, and Balochistan. Those students enrolled through these boards have their exams conducted by the educational boards of four provinces. Registration is crucial for students' appearance in exams. No one can appear in board exams without registration. 
All boards of Punjab and other provinces hold 10th-class exams in March, but the date is announced one month before the exams. Results are usually announced in July after a three-month interval.
10th Result 2022
Punjab boards and other boards conduct 10th-class annual exams every year. Generally, all Punjab boards, including Lahore Board, Sahiwal Board, Gujranwala Board, Multan Board, Bahawalpur Board, DG Khan Board, Rawalpindi Board, and Faisalabad Board, conduct exams in March.
Exams begin a month before the date sheet is announced, usually in February. Following the exams, the process of preparing results began, and results were mostly declared at the end of July or at the beginning of August. A prize distribution ceremony was held shortly after the results were declared.
All educational boards held annual matric exams this year with many candidates. Matriculation exams were conducted in March according to the schedule announced in February. Students who took the matric exams in 2022 eagerly await their results. Students will soon receive their 10th Class Result 2022. The result declaration date has not been confirmed yet, but it is expected that the result will be declared in August.
Result of 10th Class 2022
Any confirmed date for the declaration of results will be updated here as soon as it is announced. The official websites of each board will have results awaiting students. Our website has the info.pk will also display 10th Class Result 2022 shortly after it is announced. We wish all the best to all students awaiting their results and advise them to stay in touch with us for results updates. Keep an eye on theinfo. Pk for 10th class result 2022. Result pages for the 10th class 2022 can be found there.