Rs. 100 Prize Bond Result 2023 Online Check Draw #41 [Rawalpindi] | Download List PDF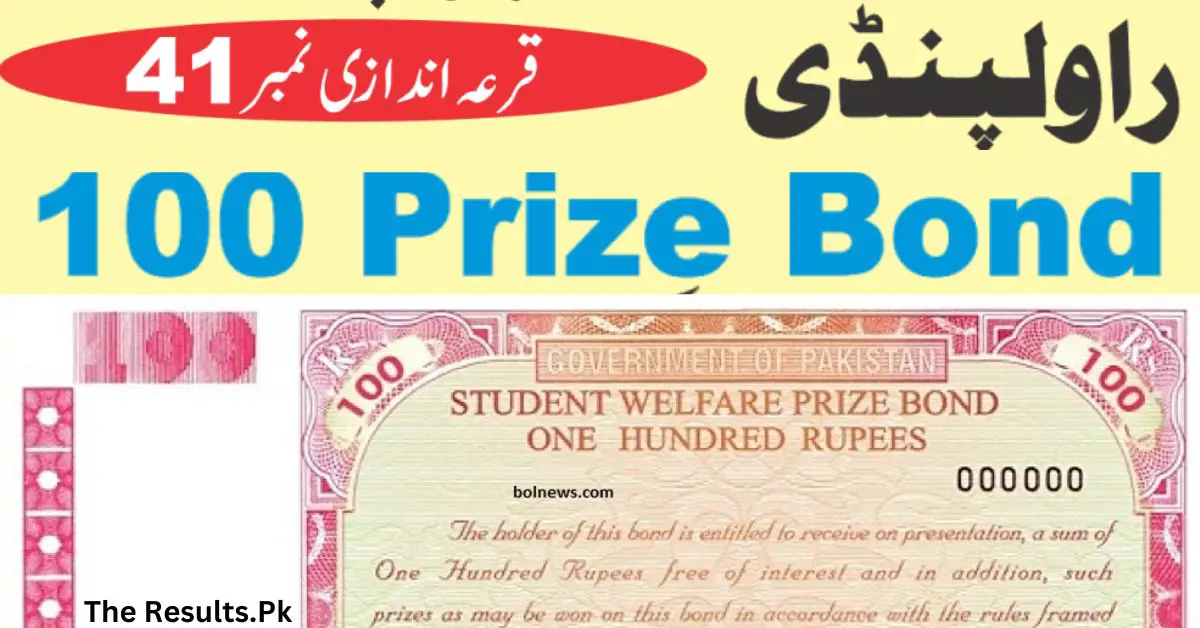 Rs. 100 Prize Bond result 2023 online check draw #41 list can be found here so you can check it out. In Rawalpindi city on 15 February 2023, the drawing for the lucky draw of Rs. 100 prize bond No. 41 was held. Visit the official website for the full list of one hundred prize bonds from the first draw to the latest. 
Rs. 100 Prize Bond Result 2023 Online Check
You can also check the National Bank of Pakistan's prize bond 100 draw 41 results List for 15 February 2023. Banks in the state carry out the balloting for the 100 rupees. Prize bonds valued at Rs.100 are considered the lowest-worth prize bonds in Pakistan.
Prize Bond 100 List Draw #41 Result Rawalpindi 2023
Designed for students and other low-income people who can save from pocket money. People in the first and second categories win handsome prizes. Below is the Rs.100 Prize bond 15 February 2023 Result from Draw #41 List Rawalpindi city.
You May Also Check:
Rs. 100 Prize Bond Result 2023 Check Online [Draw #41]
You can make money by buying Prize Bonds and entering the government's winning game. Pakistan's State Bank of Pakistan initiated this project after 13 years of independence. 
| BOND WORTH | CITY | DATE | FIRST PRIZE | SECOND PRIZE | THIRD PRIZE |
| --- | --- | --- | --- | --- | --- |
| Rs 100 PKR | Rawalpindi | 15-02-2023 | 700000 PKR | 200000 PKR | 1000 PKR |
The project was called "National Prize Bonds." State Bank of Pakistan, which owns all commercial banks in Pakistan, designs all rules and regulations.
Rs.100 Draw Winning Amounts In Pakistan
First Prize: Rs.700,000/-  (One Prize)
Second Prize: Rs.200,000/- ( 03 Prize)
Third Prizes: Rs.1000/-  (1199 Prizes)
Prize Bond Rs. 100 Draw 41 Result List Download
Prize bonds are mostly bought for their cash prizes on each draw. This department currently has 8 different prize bonds that start at just Rs.100. In the end, the prize bond amount will amount to forty thousand dollars. 
Banks and centers listed above are authorized to sell only Prize bonds. Pakistan's Central Directorate of National Savings owns the collected assets. The prize bond scheme was created to facilitate investing locally and benefit the country.